In 2012, for the second year in a row, Forbes magazine named Salesforce.com, the enterprise cloud computing company that is leading the shift to the social enterprise, "the most innovative company in the world." Nowhere is this innovation better showcased, demonstrated and accessible, than at Dreamforce, Salesforce.com's annual user conference and largest marketing event.
Since 2009, GPJ have partnered with Salesforce.com to produce Dreamforce for an audience that has grown from 19,000 to 90,000+ registrants in four years. Dreamforce '12 exceeded every expectation; from record-breaking attendance to unparalleled guest experiences that spanned not only the three halls of the Moscone Convention Center, but an expanded campus throughout downtown, including 92 conference hotels.  Across every touch point, GPJ provided the expertise to plan, design, develop and deliver Dreamforce.
GPJ's complete suite of services are utilized for Dreamforce, including client services, creative services, production, event services, sponsorship sales and partner marketing, registration, housing, content, technology, transportation, security, staffing, VIP Executive Management and special events. Attendee experiences included dynamic theatre-in-the-round keynote presentations with guest speakers and seating for over 30,000. 
Attendees were able to participate in 500+ breakout sessions, the Cloud Expo with 350+ partners and The Campground, Salesforce.com's corporate booth. Dreamforce Plaza provided an outdoor park across Howard Street, the Dev Zone created a work/play haven for Salesforce's important developer community while The Executive Summit hosted 500 CXOs in roundtable discussions.
In addition to an Executive Briefing Center, Hands on Training Labs, Salesforce.com Foundation activities, a Press, Analyst and Investor lounge, and Partner Keynotes, Salesforce thanked their customers with an evening gala in San Francisco's Civic Center. The crowd enjoyed hospitality and an electrifying performance by The Red Hot Chili Peppers, before a City Hall backdrop that served as a projection screen.
Dreamforce '12 set an industry benchmark and GPJ is undeniably proud to have helped set this new standard of conference excellence.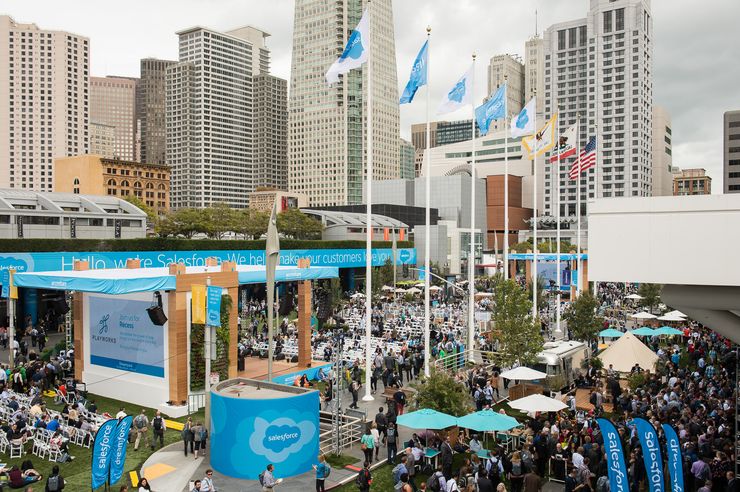 When nothing less than extraordinary will do—we're your team.
Let's do this