At GPJ we recognize the power of experiences. Experiences whether major or minor, positive or negative, can shape the trajectory of our lives. We're dedicated to creating experiences that power brand devotion, but that's not enough. Through our Project Pledge initiative, we've additionally dedicated ourselves to creating experiences that drive positive global impact. As a part of this initiative we've partnered with One Young World to provide young leaders with the opportunity of a lifetime to attend a One Young World Summit – an opportunity that will most certainly shape the trajectory of these young leaders' lives.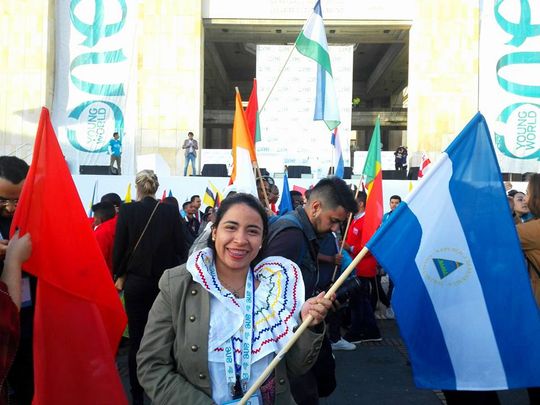 One Young World is the preeminent global forum for young leaders. Described by CNN as the 'junior Davos', the One Young World Summit gathers 1,600 future leaders from over 196 countries, alongside a distinguished line-up of Counselors – the likes of Justin Trudeau, Emma Watson, Sir Bob Geldof, Kofi Annan, Sir Richard Branson, Professor Muhammad Yunus, Jamie Oliver, Jack Dorsey and others.
In 2017 GPJ sponsored Adela Ubau of Nicaragua to attend the life changing prestigious summit. Adela teaches self-esteem and entrepreneurship workshops for women and girls in rural communities – she details her experience at One Young World below!
"On August 22, I received an email congratulating me on having been awarded a George P. Johnson scholarship to attend One Young World. I had to read the email three times to believe it was reality. For my leadership and my work, I'd received a full scholarship to attend a global event – It was a dream come true!
The summit was held in Bogotá, Colombia, and it was the first time the summit was hosted by a Latin American city. With the unconditional support of One Young Word and George P. Johnson, I happily represented my country of Nicaragua and the women, youth and girls who believe that dreams are possible. At the summit, I meet young leaders from different cultures, contexts and countries but with the same purpose: to positively impact the lives of others.
Prior to One Young World, I was inspirited by the young women and girls of the rural communities where I work. Their power to learn and carry out entrepreneurial projects is inspiring the youth to trust in their own ability to fulfill their dreams. Since a very young age, I've felt a strong desire to help the poor people working in the streets of my city and country, and I've trusted that as a young woman I can make changes in my country. I've been inspired to find solutions to needs, to promote the dreams of young people, to say Nicaragua is present and that the circle of poverty can be broken with education.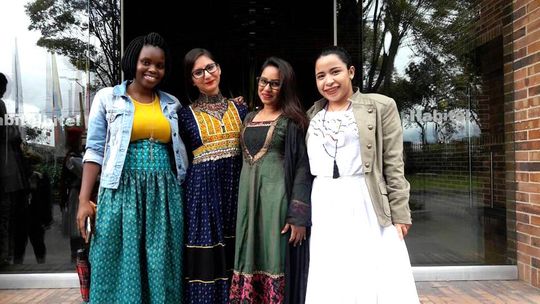 The One Young World summit inspired me by the stories of young leaders around the world, men and women who work to bring clean water, food and shelter to the neediest populations. Having heard their invaluable lessons and stories, I've committed myself to being an enthusiastic, sensitive and active voice, dedicated to creating a more just, united and equal world. The learnings will stay with me in my heart forever. I'll never feel afraid to get ahead, to believe in myself, in my potential and, above all else, to have the commitment to join efforts to support those who need it.
My home country of Nicaragua is the second poorest country in Latin America. As one of the least developed countries in Latin America, access to basic services is a daily challenge. In Latin America, Nicaragua is the country with the highest proportion of teenage pregnancies. And most pregnant adolescents are poor, with little or no education and fewer opportunities to complete secondary school. In order to reach the most vulnerable families in the country, my projects are heavily localized and require taking advantage of limited resources to obtain more sustainable results. One Young World represented an opportunity to bond with other young people and share ideas on how to improve the lives of this population.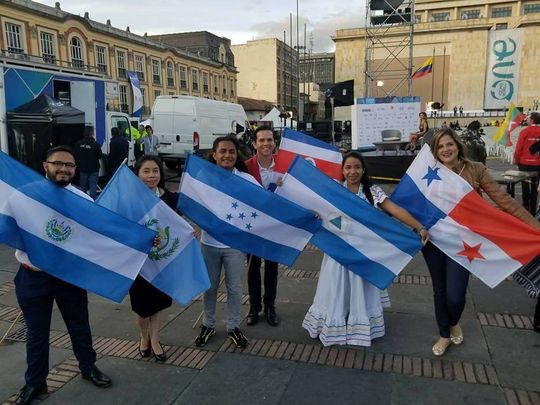 One Young World has also allowed me to see the diversity of our society – the different geographical cultures and customs – but it also allowed me to see our uniting purpose: to work hard to bring about a better life. We all have voices and we must make ourselves heard. Young people are making great changes. We believe in, and desire, a world without walls, without division, without racism or discrimination. We believe in the power we hold and that the inclusion of each person deserves our effort. One Young World has allowed us the opportunity to unite our voices for a better world, with love and solidarity."
We thank Adela for sharing her experience with us and salute her for sharing her passion and commitment with those she serves in her community!