"Alright, alright, alright." – Matthew McConaughey
The sentiment was more than alright with the announcement that the Austin American Statesman has named George P. Johnson (GPJ) Austin a 2016 Top Workplace.
Missing no opportunity to celebrate, the team did so in true Austin style, with food trucks and live music.
"At GPJ, we're focused on amazing talent, and our Austin team is an example of success in recruiting and developing the best of the best. We're extremely proud of and congratulate our leadership team for cultivating such a unique, fun and creative environment," said GPJ CEO Chris Meyer.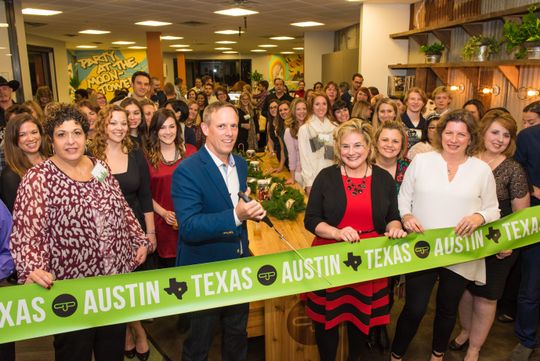 Perks like flexible time off, a dog friendly policy, cold brew coffee, epic potlucks, an in-house yogi, cozy corners with local artist murals and a turntable playing contribute to that environment, creating a hub of radical teamwork. But beyond the perks is the passion behind the work, which is why GPJ is the world's leading
. With a belief in outcomes, not micromanagement, teams are inspired to come up with fresh ideas every day that connect brands with their customers, engaging them through personalized, hands-on interactions.
"You could say we have the best of both worlds. We get to live and play in Austin but also collaborate with colleagues and partner agencies around the world. One of our biggest goals is to support each employee's career path. I always encourage the team to take risks, try new roles and have fun doing it. This kind of work is definitely not for the faint of heart, but on the tough days, we've always got dogs and tacos," said VP and General Manger Jennifer Shifman.
GPJ has been in Austin since 2007 and opened their own facility in 2012 with 80 employees. Since then, the team has almost doubled, serving multiple clients in event production and strategic account management, with a full creative design studio and a contact center that handles more than 200,000 customer touch points annually for multiple large scale corporate conferences.