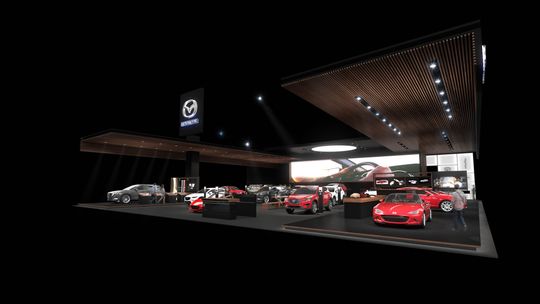 Mazda Partners with Leading Experiential Marketing Agency George P. Johnson for Auto Show Experience
– New partner to support evolution of the Mazda brand through multi-year contract –
IRVINE, Calif. (August 16, 2016) – In a continuing effort to define a more mature Mazda brand, Mazda North American Operations (MNAO) has partnered with
George P. Johnson (GPJ) for the development of the next iteration of the auto show booth experience. MNAO, in partnership with GPJ, will redesign its auto show kits to better align with the evolving brand direction for auto shows that take place throughout the year.
The partnership and redesign of the auto show experience will take place across all national and regional auto shows, and will better engage prospective customers in the car research and purchasing-decision phase. The booth will allow customers to interact with the cars, ask questions of the on-site team and explore Mazda's authentic story of passion, craftsmanship and innovation. The booth redesign seeks not only to build a new look for the booth, but instead creates an integrated, immersive experience that brings the brand's story to life through dynamic architectural design, intimate engagements and compelling media content.
"Customers today are more leery of traditional marketing messages, providing an opportunity for savvy brands to find new ways to connect with their customers," said Russell Wager, vice president of marketing for MNAO. "We've found that as people see, sit in and drive Mazda vehicles, they are more likely to choose Mazda over our competitors. The auto show experience allows an important opportunity for Mazda to connect directly with customers in an integrated approach—aligning our efforts across every customer touchpoint, in a seamless way."
While searching for a partner to assist in the development of a new booth experience, Mazda determined it was of the highest importance to partner with an agency that has a long history of connecting with target audiences—one that is known for bringing brands to life. GPJ has that experience and has a worldwide reputation for creating immersive experiences, with customers at the center.
"With this landmark partnership between leaders known for defying the status quo, GPJ and Mazda are primed to challenge the industry and exhilarate drivers everywhere. We are thrilled to begin working together to launch a new era of brand experiences; one that pushes the boundaries of performance and technology, and redefines how a car and customer can connect," said GPJ President Denise Wong.
As part of the new partnership, GPJ has formed a dedicated Mazda team to work directly with the team at MNAO. The new booth designs, which are currently in development, will be used across 54 shows in the next auto show year, with the first of the new designs to premier at the Orange County International Auto Show in October.
Mazda North American Operations is headquartered in Irvine, California, and oversees the sales, marketing, parts and customer service support of Mazda vehicles in the United States and Mexico through nearly 700 dealers. Operations in Mexico are managed by Mazda Motor de Mexico in Mexico City. For more information on Mazda vehicles, including photography and B-roll, please visit the online Mazda media center at InsideMazda.MazdaUSA.com.
George P. Johnson is the world's leading experiential marketing agency. We create innovative live, mobile and online experiences that motivate audiences and activate brands. We're part of Project; an independent network in service of creativity. Project agencies include: George P. Johnson, Partners + Napier, ARGONAUT, Motive, Spinifex Group, G7 Entertainment Marketing, School, Raumtechnik, Shoptology, Pitch, and Junior. To learn more, visit project.com.